They came. They saw. They conquered. The ladies of Project-Yine have taken on Texas, and lived to tell about it. We thought we'd let them tell it in their own words. So, without further ado, here Shana and Ashley give us their take on Texas, and the Texas Beer Scene …

After two amazing beer nights in New Orleans, Shana and Wenchie decided to "take a break" from beer for a night of vino with the authors of Another Wine Blog in Houston, TX. Another Wine Blog is the brainchild of Amy and Joe, a husband-wife team dedicated to wine, food and home-brewing. They currently reside next to NASA right outside of Houston, TX — but something tells me that may change in the very near future (wine country or bust).
The night began at a fun little pub called Boondoggles. Poor Shana. Just when she thought she was finally getting an evening of wine — we ended up at a pub. The beer menu was decent (a mix of corporate, craft, local craft & German imports). The food menu was your classic fried pub fare and pizza goodness. Prior to that night, neither Shana or Wenchie had never tasted a beer from Texas. Joe steered us towards Saint Arnold, a local Houston brewery.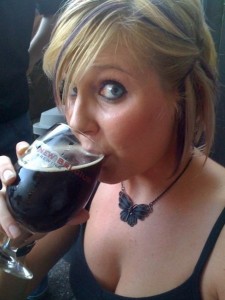 Naturally, Wenchie went with the IPA. Shana went with the more mild tasting Amber Ale. Wenchie's IPA went very well with the spicy, fried appetizers we ordered as well as the "Tejas" pizza (chorizo, andouille sausage, onions, jalapenos, Texas goat cheese, romano and provolone cheese). Shana's Amber ale went well with the vegetarian "Santa Fe" pizza (black beans, roasted corn & red peppers, red onion, cilantro, romano & provolone cheese, over a buttermilk ranch sauce).
From there, we went to a wine bar for some vino and dessert — where Wenchie got the opportunity to play chess. She got her ass kicked ass kicked by Joe — but that is neither here nor there. The next morning, Amy took the ladies of Project Y-ine to see some of the rockets at NASA. It is assumed that, at some point or another, everyone dreams of being an astronaut — well, Wenchie did at least.
After the brief stop at NASA, we found ourselves back on the road headed towards Austin, TX. Lucky for us, this leg of the road trip was the shortest. For some time now, both Shana and Wenchie have been wanting to visit Austin– but for different reasons. After all, Austin is a college town — young, hip, progressive and unique. And on top of that, it is also the "Live Music Capital of The World."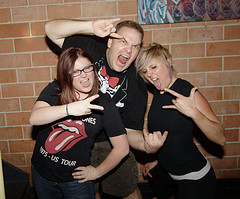 Continue reading about Project Y-ine's extended stay in Austin. As you can see from this picture of the girls with Baconator, it was an…um…interesting visit. You won't want to miss it!
Cheers!