Bleary-eyed on a Saturday morn – after an evening of downing craft beer donut holes accompanied with an intoxicating and vigorous chocolate stout glaze and enjoying other fine brews from Brews Brothers in Galveston – I was wishin' and hopin' that the trek from Clear Lake to Upper Kirby to attend Central Market Cooking School's Korean Updated at 10 am would be worth my while to get out of bed. Little did I know that an aromatic, engrossing, and fiery tour of Korean cuisine was about to awaken my senses and bring unabashed foodie joy in the next 2.5 hours.
Upon my arrival to the classroom, I was cordially greeted with a packet of recipes used in the day's class and an enticing offer to join the Chef's Club (Take 8 classes and get the 9th class up to $40 off!).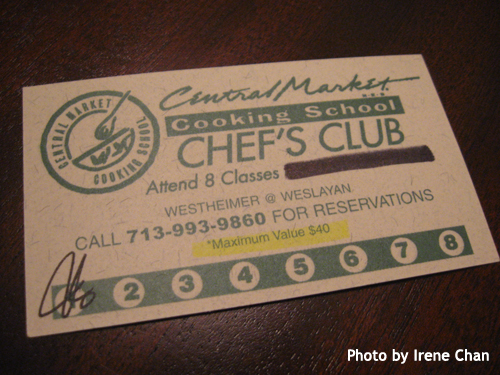 I am nowhere close to what you call a chef. I can eat, but cook? Cooking is not a strong suit. An impressive kitchen setup like this was a bit intimidating to this cooking neophyte: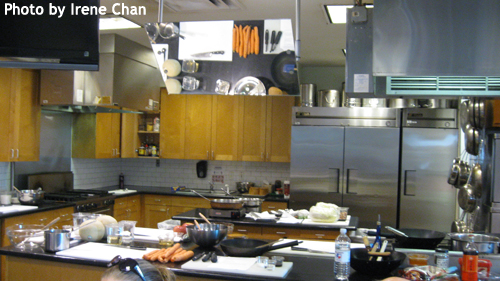 I was assigned to a seat and I spy a nearly complete table set, waiver, feedback form, a goblet ready for some water/unsweetened iced tea, and another goblet for some wine? Alcohol? What?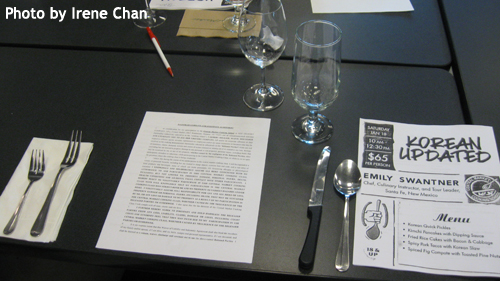 Central Market likes to pair the wine or beer that you will be sampling with the food for fun and education. For this reason, and to be in compliance with TABC regulations, you can't bring your own alcoholic libations into the classroom. For our beverage accompaniment, we had Sapporo Premium Beer, a 5% ABV Japanese rice lager that gets a mediocre rating from your friends at BeerAdvocate.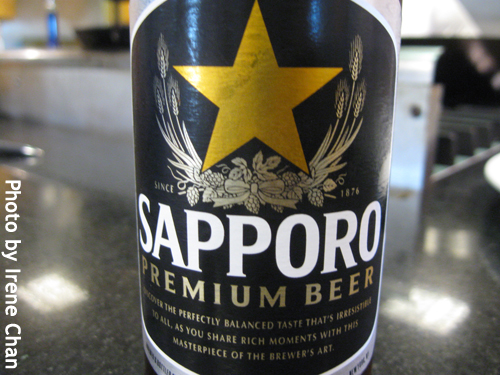 I personally thought this was a fair pairing since we were about to indulge in a sinus-clearing feast, courtesy of gochujang (Korean fermented red chili paste) and an assortment of both fine and coarsely grounded, crimson-colored peppers. Sapporo has a muted buttery taste that helps keeps the heat in check and lets other flavors and textures in your meal slowly reveal itself to you. The instructor had also recommended to pair the meal with a dry, sweet Riesling (at that time, the brand of her favorite dry Riesling to pair escaped her mind; she'll be e-mailing me with the name soon) or a pale ale.
I didn't know what kind of instruction to expect from the instructor, Emily Swantner. Her unconventional garb of denim chef coat and boots and her animated pacing and gestures threw me off with the pace of the class. Why is this gal that hails from Santa Fe, NM teaching a cooking class in more cosmopolitan cities? Despite my sleepy, irrational thoughts on a Saturday morning, her adamant wish for us to "get on your hobby-horse and go to H Mart" (a serious source of Asian groceries) and her enthusiastic overview of each dish for the class convinced me we were off to a fantastic start on our tour of Korean cuisine peppered with adjustments that catered to modern city-folk taste buds.
What further convinced me that she was the authority (at least for the day) on Korean food for the common Houstonian was her proclamation that kimchi and rice equals a meal for her. (! Icing on the cake: we got a copy of David Chang's  – of New York's Momofuku fame – kimchi recipe that she likes to use!) This is exactly what Roy Choi, the genius behind the Los Angeles' famed Korean/Mexican fusion truck, Kogi BBQ Taco Truck, said. By the way, check out Choi's book, L.A. Son: My Life, My City, My Food to get an honest, expletive-filled look (Anthony Bourdain is a co-publisher of this book, after all) of how life in the City of Angels can bring about a mouth-watering amalgam of different cultures. Case and point: look below for a gorgeous short rib burrito.
We were divided into 5 different groups to tackle the 5 dishes planned for us:
Korean Quick Pickles
The quick pickles came in 3 varieties for the panchan, side dishes that welcomed you to the rest of your Korean meal. The colorful, vibrant pickles were not supporting cast members to the simmering fried rice cakes with bacon and cabbage of this gustatory production. They were stars of the plate, drawing you into a sensational, emotional, and meaningful scene.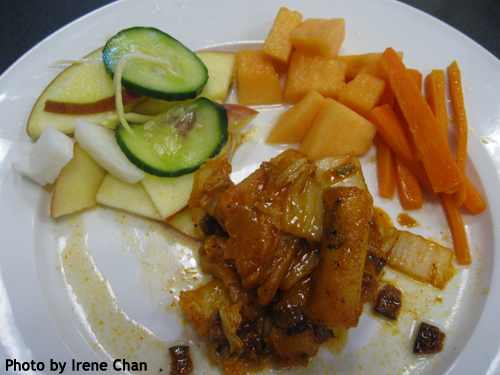 In order of yum to just um, OK:
Quick Pickled Melon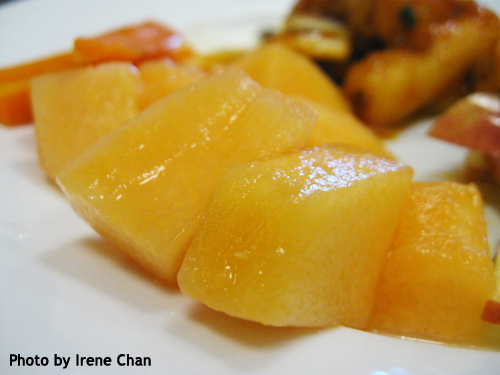 Another student had commented that the melons don't need pickling. I concur. Disclaimer: I have a soft spot for the refreshing sweet of cantaloupes and honeydew so this may be the reason why it shot straight to the top of the panchan list for me.
Seasoned Carrot Pickles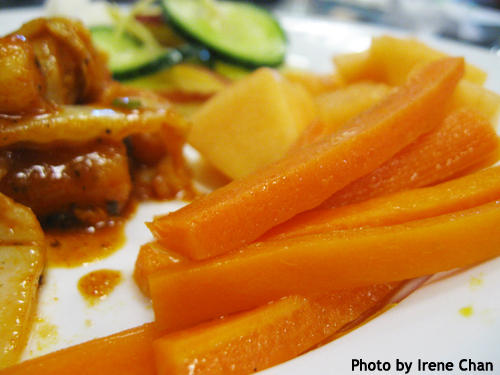 You can't go wrong with carrots. The satisfactory crunch is a happy departure from the spicy mushy textures you get from the other dishes.
Another student thought the choice of Julienne cut was not ideal. I couldn't have agreed more. The lanky root spanned the width of my mouth and made for a very clumsy eating scene. I had to use a knife to cut the carrots so I can enjoy it with more poise and grace.
Cucumber Apple Pickles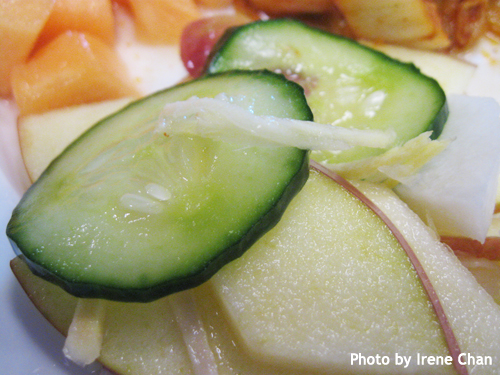 Although the motley of colors makes it look so appetizing and the number of ingredients run the gamut of tastes and texture, the overwhelming taste of ginger made it a no-no in my book. Ease up on the amount of ginger and I think we have a winner.
Kimchi Pancakes with Dipping Sauce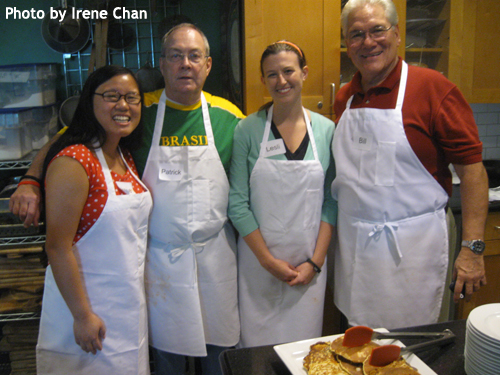 The kimchi pancake crew – me, Patrick, Lesli, and Bill – made not-so-bad looking pancakes. To my chagrin, they let me, the new-kid-on-the-cooking-block, take hold of one of the spatulas to flip pancakes. Bill patiently mentored me on timing the flip of the pancakes. While I was flipping in trepidation (some of the pancake batter spilled from my griddle onto the stove's burning flame), Bill took some action shots (which will be posted here at a later date). Lesli, a more skilled cook, masterfully chopped up the kimchi and took the helm of the other griddle. Patrick got the dipping sauce prepared and aided Lesli at the griddle.
It all started with the following setup: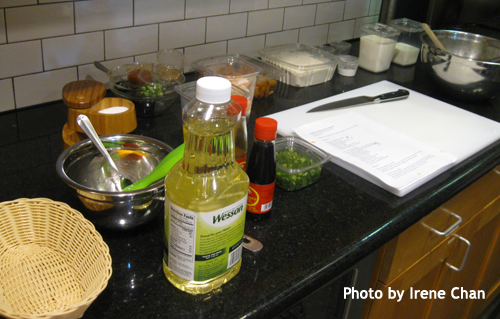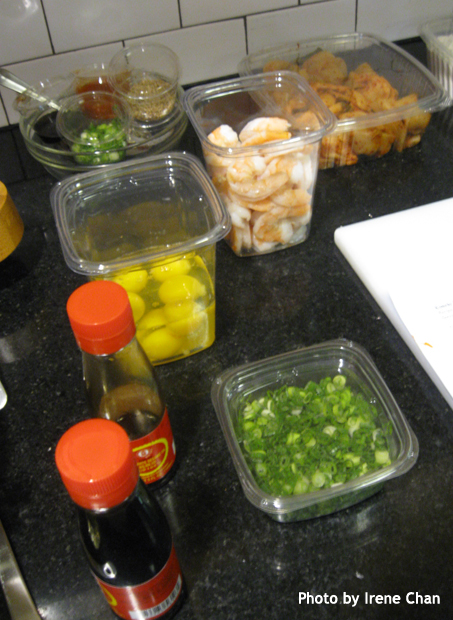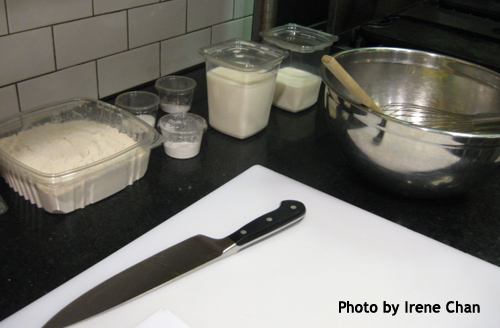 I appreciate Central Market for measuring out the ingredients ahead of time (since they need to double up the recipe to feed 16 stomachs) and providing the recipe at the prep area. This setup made it easier and faster to get the mechanics of cooking the pancakes within the allotted time. We were so efficient, we had to put the pancakes in the oven to keep it warm while we waited for the rest of our cohorts to finish their dishes.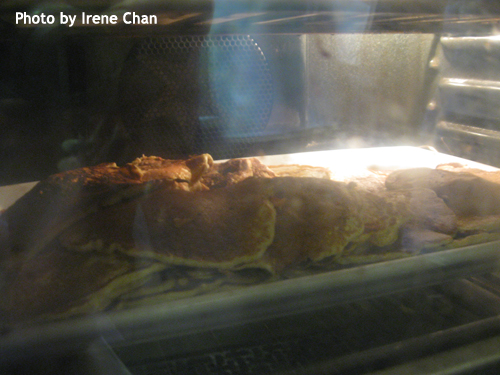 By golly, this is what we ended up with: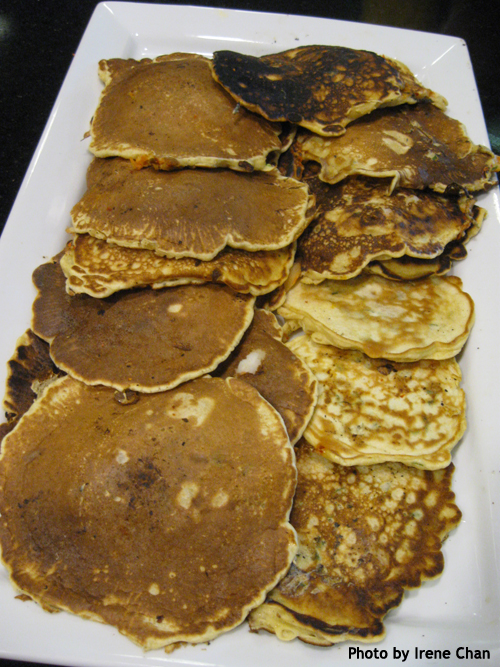 It looks better when you plate a single pancake with the dipping sauce: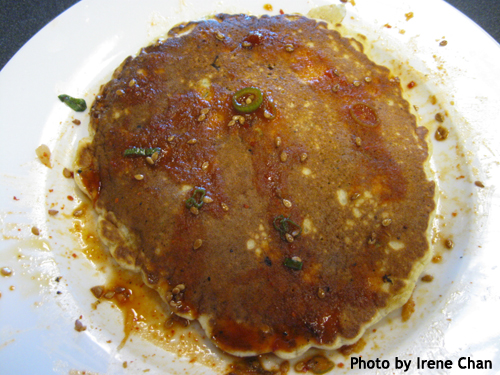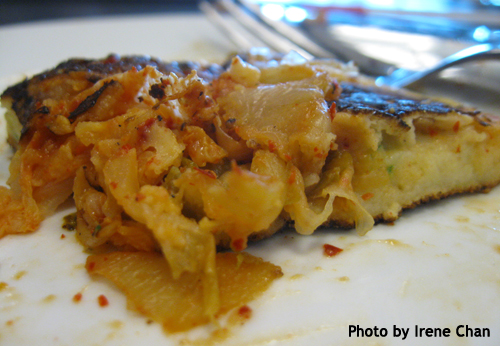 Even the burnt ones taste good: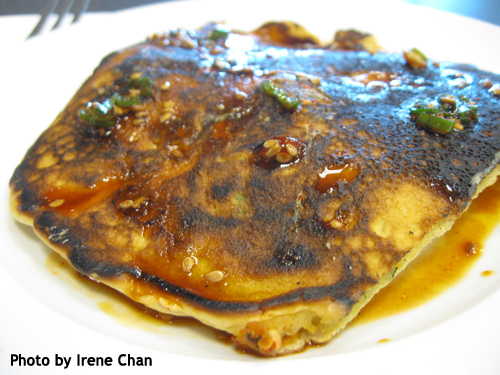 Fried Rice Cakes with Bacon and Cabbage
If you can, try to get fresh rice cakes. This class used the dried rice cakes shown below. Having to rehydrate them made them a bit more chewy than desired: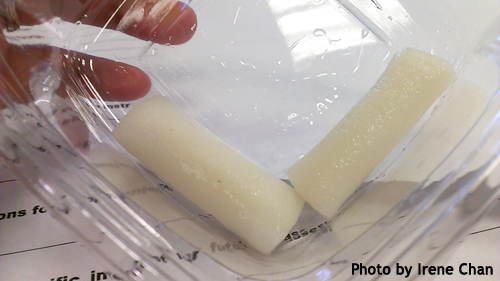 Rice cakes served as a panchan at a Korean BBQ restaurant makes me happy. I love the gamy texture and it's magical way of abating the burn from spicy marinades on meats. The rice cakes definitely helped with taming the flames of the gochujang: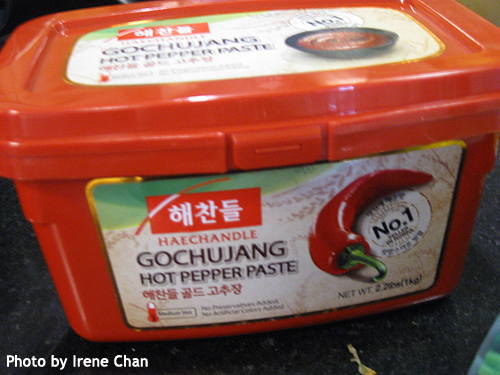 The bacon added the desired unctuous quality and protein we omnivores desire in a fried dish.
The cabbage seems to take a back seat in this dish, but it helps liven up the texture of crunchy bacon bits and chewy rice cakes with some fibrous oomph.
Spicy Pork Tacos with Korean Slaw
Prior to this class, I thought it would have some semblance to Kogi's taco. I salivate over the thought of Kogi's short rib burrito: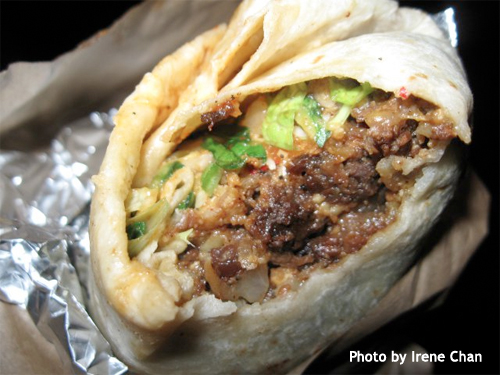 A symphony of beef, hash browns, scrambled eggs, cheddar and jack cheese, chopped onions, cilantro and chiffonade romaine and cabbage lettuce tossed in Korean chili-soy vinaigrette, a dash of Kogi's sesame-chili salsa roja sauce and sprinkled with toasted sesame seeds.
I also expected it to be more substantial than Houston's very own Oh My Gogi! taco: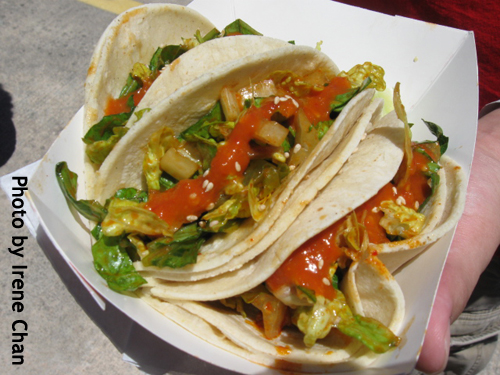 Where's the pork/beef rib eye/chicken? Oh My Gogi!'s taco build: meat, Korean soy vinaigrette, and salsa.
It turned out to be a tasty take on a pork taco.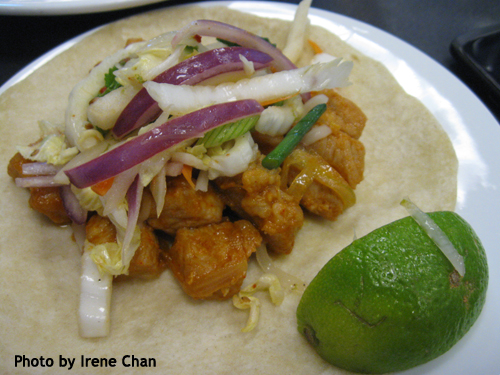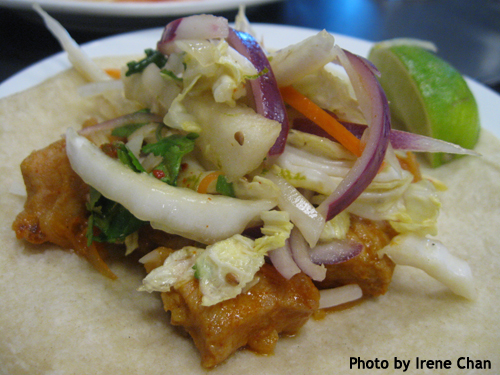 Like any other delicious food truck taco, the pork marinade was always engulfing the tortilla and gushing out onto the plate with each bite.
The slaw reminded me of salads in Bento boxes or cole slaw that used a vinaigrette instead of mayo.
Everyone had to build their own tacos so if didn't taste good to them, it was their own fault. I enjoyed piling on the pork; I should have made it into a burrito instead.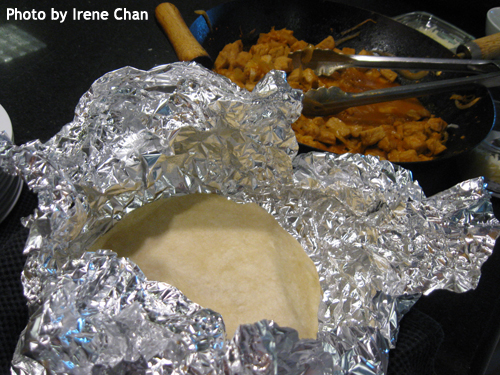 Spiced Fig Compote with Toasted Pine Nuts
You can typically expect a poached fruit as a dessert to wrap up a meal. Persimmons are typically used in a spicy tea compote, but seeing that figs are more readily available in Houston, why not use it in the recipe?
At this point, my classmates and I are overwhelmed from the 4 courses that proceeded dessert. We were relieved to find 2 dainty figs perched on top of a sea of aromatic honey and pine nuts: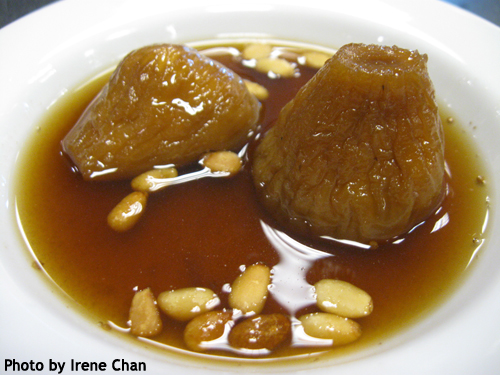 It was a good way to cleanse the palate from the spicy predecessors and carry on with other adventures the rest of the day.
Afterthoughts
After this whirlwind updated Korean cuisine tour, I can see why we have many fandoms and of Ms. Swantner and why she is a repeat instructor for the Central Market Cooking School. She has an infectious enthusiasm and deep understanding for international cuisine and empowers you to try to make these dishes on your own. She doesn't shake her head in dismay when you've burned many kimchi pancakes. She gently examines your well-meaning mess and builds back your self-esteem with some helpful pointers to make the next piece that much better.
This cooking rookie, ace foodie has a hankering to attend another class. Thank goodness the course offerings are abundant and varied throughout the weeks. Additionally, classes typically starts 6:30pm, which is more reasonable time for this night owl's circadian rhythms. Some upcoming classes that pique my interest include:
Essentials of Szechwan Cuisine II with Dorothy Huang
Wednesday, February 12, 2014 @ 6:30pm, $65
Two words: mapo tofu!
Easy Indian One-Pot Meals with Shubhra Ramineni
Tuesday, February 18, 2014 @ 6:30pm, $60
iChan loves biryani. I'd be overjoyed if it turned out something like Neeta's goat biryani, but substituted with chicken just for this class: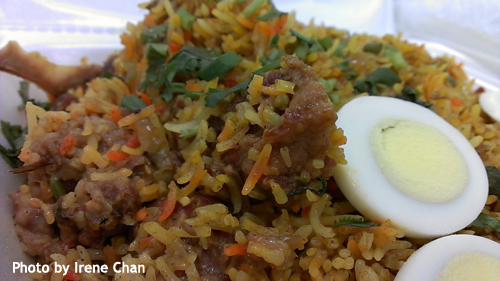 Couples Cook: Thai One On with Nicole Routhier
Saturday, February 22, 2014 @ 6:30pm, $120 per couple
It's "C" alliteration time: crispy (noodles), seafood (yes, it doesn't start with a "C," but close enough), curry, custard, couple, cooking. With the harmonious sounds of this menu, nothing can go wrong with this class.
With these classes that will potentially satiate your Asian palate, you can skip the trips out to Houston's Bellaire and Hillcroft. Simply enjoy the food in the Central Market classroom and bring the recipes and stories back to your cozy homestead. You know you can't resist a fine culinary education from celebrated instructors/cookbook mavens, the opportunity to regale fellow food enthusiasts with recipe tweaks and similar restaurant/home-cooking experiences, and a multi-course meal in the ball park of 65 buckeroos. Fire up a new browser tab and sign up for a Central Market Cooking School hands-on class today!
Irene Chan is your favorite sub sandwich cradling/let's-try-that-new-place-down-South-Street-South-Street/brew pub/surf 'n' turf/dessert gal pal that inundates your social media news feed with photos from her latest food adventures. Her unearthly love for food originates from her culturally diverse upbringing in the east side of Los Angeles and is amplified by the vast gluttony in the greater Houston area. When's she's not eating, she's fiddling with web stuff for NASA Johnson Space Center and other aerospace-y organizations; inspiring future generations of (aerospace) engineering professionals; and getting nostalgic about her bodybuilding days.